Existing Application and Processes Integration
Enhance the functionality of ReportSafe – with RS QuickDraw and RS AutoIndex
Whether you use your favorite GUI application or logged onto a mainframe CICS application, with voice commands or a touch of key, RS QuickDraw finds and displays related images based on information from your existing application screen.
RS QuickDraw retrieves electronic documents that are associated with the screen fields currently in view.
It gives any Windows or 3270 application instant access to the electronically stored documents and reports in ReportSafe.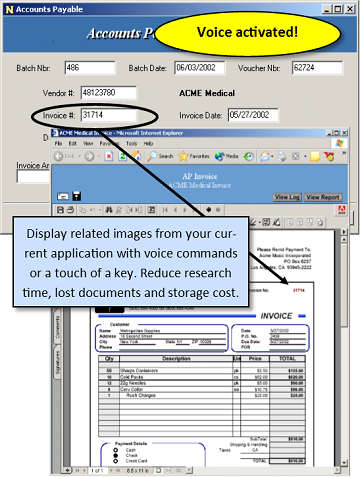 Imagine you're in the AP system with an invoice number displayed on the screen; you press the RS QuickDraw hotkey and the scanned image of the invoice appears. As you view the invoice, you have the ability to make annotations on the document. Attach a WebNoteTM indicating the W9 information is required from this vendor, then electronically route this document to a co-worker. RS QuickDraw makes this seamless integration happen without programming and without product dependent APIs.
RS AutoIndex was developed as an innovative approach to automate the manual process of indexing imaged documents. Imaging solutions for known document layouts are great, but what do you when you have to scan dissimilar documents like AP invoices? Scanning thousands of documents is a time consuming task, and to properly index each document for future recall and research is a problem faced every day. RS AutoIndex is the tool that lets you avoid all the re-keying of index information. You save an extraordinary amount of the time while increasing accuracy.
ReportSafe supports Secure Socket Layer (SSL) connections to prevent unauthorized access. Data encryption capabilities provide a safe environment, and Single Sign-on eliminates the need for users to manage multiple passwords and logons. Security may be tailored for each individual user and group; with the flexibility to limit a user's actions, you can deny a user's permission to E-Mail documents, or designate a user as having only view access (read only). A message is recorded in a detailed audit log for each access and all actions performed on a document; the user ID and a date/time stamp is logged when a document is E-Mailed, printed, forwarded, etc. ReportSafe also offers multiple levels of security administration.
Automation with RS WorkFlow
RS WorkFlow – a complete Business Process Automation
RS WorkFlow is an automated means to seamlessly incorporate your policies and procedures into your staff's daily activities. WorkFlow automation eliminates routine decisions, redundant tasks, and maximizes your employee's efforts for decisions best suited to their expertise.
RS WorkFlow is the solution that enables you to automate these critical decisions with confidence and ease.
RS WorkFlow Advantage
The automation of business processes guarantees the effort required to generate these procedures is not just sitting on a shelf. Prevent exposure to non-compliance issues or mishandling of your business information, which can impact your revenue. RS Workflow automates the routing of all types of business documents and information to eliminate time-consuming, cumbersome, and error-prone tasks.
Save significant time each day by automating tasks. Additionally, minimize the impact on your staff when policies and procedures change. Protect them and your companies assets from overlooking critical steps in a process and gain:
Productivity – streamline your process and eliminate redundant and time-consuming tasks.
Accuracy – eliminate error-prone tasks, oversights and training
Consistency – automation guarantees consistent practices among employees
Flexibility – instant compliance with quick WorkFlow change
Standardization – improve management of business processes achieved through standardizing working methods and the availability of audit trails
This post is also available in German.