Rule-based Processing
Flexible and easy to use
Acting in much the same way as a printer, ReportSafe can quickly be installed to receive all output from across your various processing environments, without requiring any host programming or scripts. All incoming data is automatically analyzed and indexed based on customizable identification and parsing rules and then stored in the ReportSafe central online or offline repository.
From any designated web-based management console, you can easily define and customize the ReportSafe control parameters and processing and security rules for each application, user group and processing environment.


Using the Filters window, you can determine the reports to process. If the appropriate fields within the incoming data, such as job name, title, recipient, etc. match the values (including 'wildcard' characters) entered on the screen, the report is selected for further processing.

The Set window allows you to change a report's job name, title, and recipient in the incoming report identification data or provide the values, if they do not exist. You can also specify the length of time (up to 89 years) to keep the report in an active and/or archive file.
From the Recipients window, you can specify how a processed report or report section is to be delivered to individuals requiring email, fax or printer output. The email recipient can receive the entire report or just a hyperlink to the report in the ReportSafe server (to minimize electronic mailbox storage and network traffic).
Decollation of large Reports
With the ReportSafe decollation facility, large reports can be broken down into smaller, more manageable reports so that only the specific pages required can be sent to the correct recipient. You can define a retention period, target device and user directory for both secure online and offline storage for specific report sections. In this way, users can immediately access the current or historical data they require without needlessly scanning through entire reports or wasting printing resources.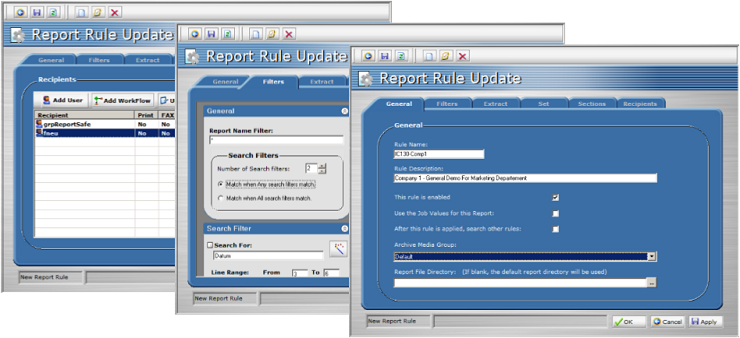 From the Reports screen you can specify how each incoming report is to be separated or 'decollated'.
Each sub-report can be directed to different individuals or group, stored and archived for a different period of time, and processed in greater or lesser detail than the others. Decollation is commonly used to break a report when a department or company name changes; each sub-report is then automatically delivered to the appropriate recipient.


All access to reports is protected by the failsafe ReportSafe user access authorization system that attributes viewing and access rights automatically to each report as it is received by ReportSafe, based on pre-defined rules entered by authorized personnel. In this way, data security is safeguarded across the organization to meet the stringent requirements of any e business environment.
This post is also available in German.